05 January 2018 Two galleries (Edel Assanti, London and Harlan Levey Projects, Brussels), one exhibition – Steps and Marches by Marcin Dudek. According to Time Out Magazine, it was one of the best exhibitions in 2017. Back in April 2017, we had a chance to visit Marcin's studio to view some of his works – they are amazing. You need to see Dudek's 'paintings', 'reliefs', 'collages' with your own eyes to discern and appreciate their inherent nuance, which determines reception. A must-see in 2018.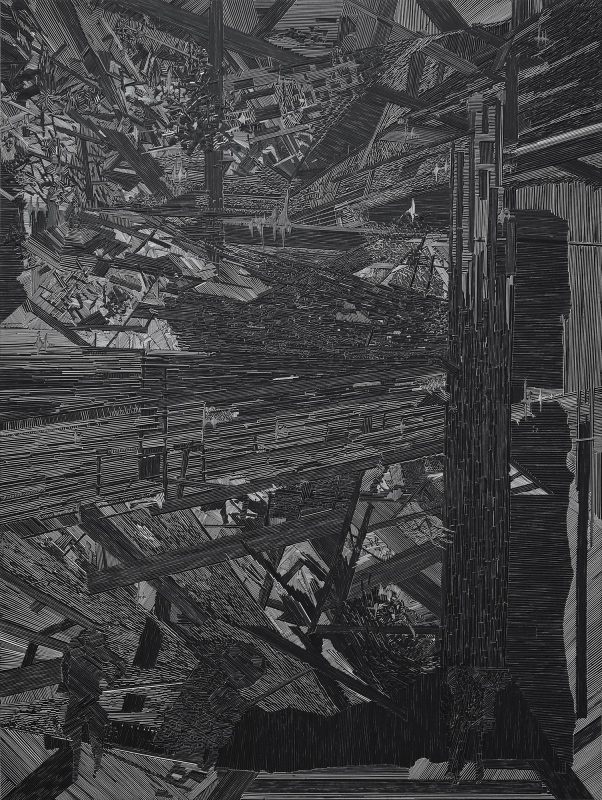 Marcin Dudek, The Meaning of Collusion, Cloth tape, 2017, UV varnish on wood, 161x122cm.

Marcin Dudek (b. 1979, Poland) lives and works in Brussels, Belgium. He works with objects, installations, collage and performance, touching upon questions regarding control in society, the hierarchy of power, and mechanisms of violence and aggression. His work has been exhibited internationally at institutions including Moscow Museum of Modern Art, Salzburger Kunstverein, the Arad Art Museum, Bunkier Sztuki and the Goethe-Institut Ukraine. His installation The Cathedral of Human Labor (2013) is on permanent view at the Verbeke Foundation in Belgium.

In 2018 he will have a group presentation at the Wrocław Contemporary Museum and a massive project in the context of Manifesta 12 Palermo.
-
Kasia Fudakowski
Have you seen Kasia Fudakowski's exhibition DOUBLE STANDARDS – A SEXHIBITION at ChertLüdde? It was her third solo exhibition at the gallery. If you missed it, next year you should see her works.

Kasia Fudakowski, born in London in 1985, studied at the Ruskin School of Drawing and Fine Art, Oxford University before moving to Berlin where she has been living and working since 2006. Her recent exhibitions include the Fraustellung series; Enthusiastinnen, Bethanien, Berlin; Stoikerinnen, Harburger Bahnhof Kunstverein; Pessimistinnen, ABC Berlin; and Sexistinnen at Art Basel Statements. In 2016 she received the Fürstenberg Contemporary residency grant and in 2017 the Villa Romana Award, Florence. This year Fudakowski will participate in Produktion! Made in Germany, Sprengel Museum Hannover and Bring Art into Life!, Museum Ludwig, Cologne.
Zuza Krajewska
Polish female photographers… we are following them closely and carefully. Artists who established their presence are continually working on new projects. Last year belonged to Joanna Piotrowska but in 2018 watch out for Zuza Krajewska. The group exhibition of young fashion photographers in New York in which she took part has just ended but the new year starts for her in Budapest where you can see Golden Boundaries. Youth Culture in Contemporary Photography exhibition. What next? Stay tuned!

Zuza Krajewska (1975) – the photographer, graduated from the Academy of Fine Arts in Gdańsk. Her images have been published in Elle and KMag among others. Her works have been presented at many individual and group shows – including CCA Ujazdowski Castle, (Red-eye effect, 2008), National Museum of Warsaw (Arts Homo Erotica, 2010; Raised. From the Pharaoh to Lady Gaga, 2012), PGS in Sopot (Self-love. Artists love themselves, 2014) or BWA Warszawa (Solstice, 2013 and IMAGO, 2016). She lives and works in Warsaw.
Natalia Załuska
Abstract painting is everywhere. Visit a museum, a private gallery or an art fair and abstract art will be there. In 2017 in Krems we could see the exhibition Abstract Painting Now featuring sixty different art positions, and focus on the present-day international state of play of the nonrepresentational easel painting. One of the painters of the young generation was Natalia Załuska. We wrote about her works here (http://contemporarylynx.co.uk/natalia-zaluska-meaning-in-minimalism). Next year will be hers. You might see her works in Vienna, Mexico City, Madrid, Budapest, Cologne or New York…

Natalia Załuska (b. 1984, Krakow, Poland) graduated in 2013 with a degree in Painting from the Akademie der Bildende Künste in Vienna. Her works were presented in group exhibitions at, inter alia: Lentos Kunstmuseum, Linz; Kunstforeningen GL STRAND, Copenhagen; Contemporary Art Center Matadero, Madrid; Kunsthalle CCA Andratx. Her individual exhibitions took place at Gallerie Jochen Hempel, Berlin; Galerie Klüser 2, Munich; Galerie Le Guern, Warsaw; Christine König Galerie in Vienna. Załuska received numerous scholarships and residency invitations, including Herder Stipendium, Alfred Toepfer – Stiftung F.V.S, Hamburg, and the Austrian government scholarship to stay at the Cité Internationale des Arts in Paris. Her works are in private and public art collections.
Władysław Hasior
An artist who studied in Ossip Zadkine's studio in Paris. In the West, he was hailed as "the most talented student of Rauschenberg and Warhol". In Poland, his work is considered as a precursor to pop art and assemblage.

In the near future you might see his rediscovery in London… and purchase his works at art auctions.

Władysław Hasior (1928 – 1999) – sculptor, painter, stage designer and teacher. Artistic trouble-maker and rebel. He taught at the State Lycée of Artistic Technique in Zakopane and at the State College of Fine Arts in Wrocław, where he also worked as a stage designer for the Polski Theatre. A grant from the French Ministry of Culture enabled him to study in Ossip Zadkine's studio in Paris. He was a member of Phases, an international group of artists and writers. He lived in Zakopane, where, in 1985, in the day sun-lounge of the Warszawianka Sanatorium he opened his gallery.
From the late 1950s, he used ready-mades or parts thereof to create numerous metaphorical assemblages; from the mid-60s, he went on to produce the solemn and grotesque Banners. He carried out sculpture performances employing natural elements: winds, water and fire; he also made monumental sculptures, including Prometheus Shot Dead (Kuźnice 1964), Iron Organ (Snozka 1966), Golgotha (Montevideo 1969), Chariot of the Sun (Södertälje near Stockholm 1972–1976).
His works can be found in many collections including the Moderna Museet in Stockholm, the Museo de Arte Moderna in São Paulo, the National Pushkin Museum in Moscow and the National Museums in Krakow, Poznań, Warsaw and Wrocław.
Erna Rosenstein
When we think about surrealism, we see works of art created by men. The vision of the world (or the parallel one) from their perspective as well as their imagination and dreams. But what about female artists in surrealism?
We recommend to immerse yourself in the world created by Erna Rosenstein.

Erna Rosenstein (May 17, 1913 – November 10, 2004) was a surrealist painter, graphic artist and poet. She was the daughter of an Austrian judge, born into a Jewish family in the town of Lemberg, Austria-Hungary, now Lviv in Ukraine. She belonged to a group of artists known as the Kraków Group, which she had met at the Academy of Fine Arts in Kraków. The inherent part of her works is found objects, readymade paintings and assemblages of plastics, painted chocolate boxes, doorbells, bottle, caps etc. You might see her works soon at a Tate exhibition showing female artists and their surreal world…
5 January 2018