03 May 2018 Pillars of time and memory - Jodie Carey creates towering abstract pillars as part of her work and she's due to unveil some more in response to the Foundling Museum's history. Her new sculptures will examine the fragility of ties mothers had with their child once they gave them over to the Foundling Hospital and the fabrics they left to be remembered by. The sculptures may be large but they will offer a subtle look at maternal love.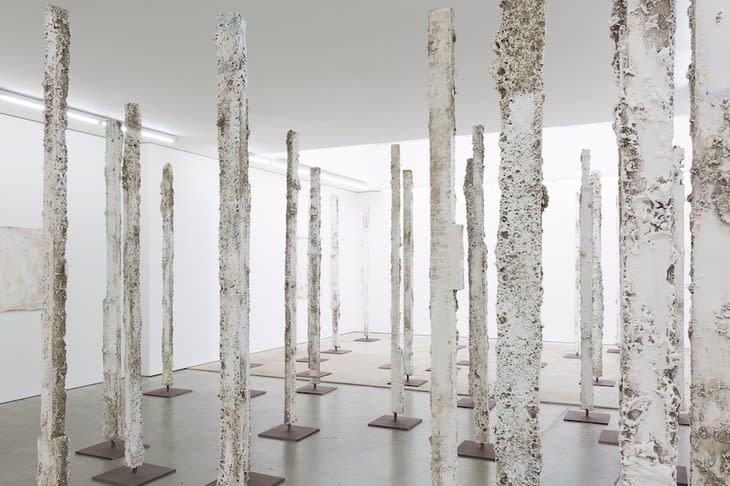 Jodie Carey: Sea at The Foundling Museum. 25 May-2 September, £11.
-
When most people think of photography in galleries they think of landscapes, portraits and documentary images, whereas think of abstract art and painting springs to mind. Abstract photography is not on many people's radars, despite it having a long history. This exhibition will look back over the last 100 years to see how abstract photos started and how the art has evolved as technology has allowed it to diversify.
Shape of Light: 100 Years Of Photography And Abstract Art at Tate Modern.
2 May-14 October, £16.
Nocturnal London
Sticking with photography, how can we capture the energy and spirit of London after dark? That's a challenge photographers have been taking on for over 100 years. Museum of London will bring together photography from the late 19th century to today, capturing our vibrant night life, empty streets, city lights and of course those who fall asleep on a night bus... isn't that all of us?

London Nights at Museum of London. 11 May-11 November, £10-£12.
Welcome to the world of tomorrow
Which designs are going to transform our world? Will our lives be changed by a global seed bank and a shirt that can power a smartphone? Everything from a solar powered aircraft designed by Facebook to works by independent designers promise some brilliant ideas that may or may not revolutionise the world.

The Future Starts Here at V&A, 12 May-4 November, £15.
The Royal Academy is growing
No longer will the back and front entrances fail to meet in the middle of the Royal Academy of Arts. A massive construction effort has been happening behind closed doors to knock through the listed building and connect it all up. That means we get a new exhibition space, and more exciting is that there will now be free galleries where some of the masterpieces in the Royal Academy's permanent collection will go on display.
The New RA. Opens 19 May, free-£14.
Architectural fancy
Emily Allchurch takes different architectural styles from different parts of the world and merges them into a digital collage to create beautiful visions of imagined cities. We've been massive fans of her work for years, so we're excited to see these works appear within the architectural wonder that is Sir John Soane's Museum. It's a perfect fit of artist and venue.

Emily Allchurch: Visions of Architectural Fancy at Sir John Soane's Museum. 16 May-26 August, free.
A colour explosion
Katharina Grosse wowed us with her South London Gallery show where it looked like paint cans had exploded in the space and covered the walls and ceiling. We're promised more of the same in her next exhibition, where giant paintings will spill off the wall and on to the floor. It's going to be a colourful extravaganza.

Katharina Grosse: Prototypes of Imagination at Gagosian Gallery, Brittania Street. 16 May-27 July, free.
Chomp on this
Ever dreamt of all your teeth falling out? Or dread a visit to the dentist? Our teeth are a sensitive subject, and the Wellcome Collection is pulling together an exhibition about our chompers. It will look at myths such as vampires and tooth fairies, and deal with how dental hygiene has evolved over time — we often find that period dramas are unrealistic as everyone has brilliant white teeth, which we're sure couldn't be the case. Some of the early surgical tools are guaranteed to make us wince.

Teeth at Wellcome Collection. 17 May-16 September, free.
Roman skeletons
What can Roman ruins tell us about London's history? It keeps changing as new ruins are found. The Museum of London Docklands will be letting us into the new findings that have been unearthed. A sarcophagus, skeletons and cremated ashes await us as we're transported back in time to Londinium.

Roman Dead at Museum of London, Docklands. 25 May-28 October, free.
Keep the hits coming
Hayward Gallery re-opened with a fantastic Andreas Gursky exhibition and the next show is even more ambitious. Lee Bul likes to tackle wide ranging topics from bio-engineering to manga. She also tends to place architectural interventions within the building, and if it's anything like the shiny climbable work we encountered in the past, then we're on to a winner.

Lee Bul at Hawyard
Gallery. 30 May-19 August, £14.50.
3 May 2018