05 June 2018 Commissioned by the Museum, Jodie Carey has created three new site-responsive installations in response to the Foundling Hospital story. Displayed within the exhibition gallery and amongst the historic Collection, these monumental pieces are imbued with a sense of remembrance and emotional trace.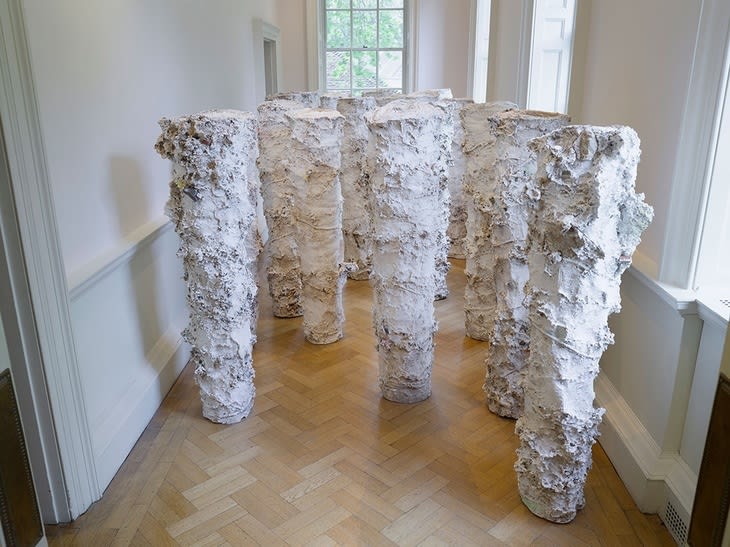 Found, 2018, Plaster, earth, paint and colouring pencil, Dimensions variable, Each sculpture is approximately:, 158 x 50 x 50 cm, 62 1/4 x 19 3/4 x 19 3/4 in.
Drawing inspiration from the eighteenth-century fabric tokens left by mothers with their babies as a means of identification – one of the few tangible connections between mother and child – Sea is formed of hundreds of swatches of fabric that have been dipped in liquid clay and fired. These delicate ceramic fragments cover the exhibition gallery floor. Upstairs, two monumental works cast in the earth explore ideas of memory and time. Eighteen life-size plaster sculptures crowd the Anteroom, while in the Foyer a delicate and slender bronze sculpture stands floor to ceiling.
Carey's abstract and organic works seek to make visible the fragility of life and human relationships, to acknowledge the absent presence of the thousands of children who passed through the Foundling Hospital, and to reflect on the elemental drives at the heart of its story; love, loss, and survival.
Join the conversation #JodieCarey
5 June 2018