05 August 2018 The air looked cooler inside, somehow. Stifled by the heat and close sweat of London's heatwave, the smog rising from the ground like heat haze, I had found myself in the centre of town with time to kill. Entering the space, I was soon alone, as if sucked into a vacuum. The choking effect of the streets dissipated. I allowed myself to wallow a while in the sudden calm, this eerie quiet. All of this is relevant somehow. All of this coloured my reception of what I found there inside.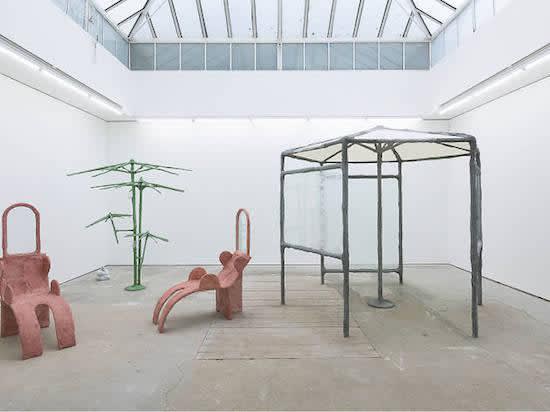 Oren Pinhassi, Second Nature, installation view, Edel Assanti, London, UK, 2018
There is something of the spa about Oren Pinhassi's debut London show. To enter the space of the gallery, is to feel onself immediately on holiday – with all the possibilities for fleeting erotic encounters that might entail. Everything here seems handcrafted for the commission of private acts in public places – or at least, for some ambiguous slippages between the concealed and the revealed: the clear sides of a beachside pavilion brought near to opacity with a smear or vaseline; two urinals, facing each other, their backs replaced with glass.
Ambiguity is everything. And nothing, here, is quite what it seems. The 'second nature' of the show's title might refer to that which has become hardwired and habitual, a trait so well-learned as to have become instinctive. But it could also indicate a new kind of biology, a new flesh, a natural world reformed from the detritus of the anthropocene. The trees here are formed of the skeletons of old umbrellas. Sweat-caked towels harden into coiled snakes. Our old junk is coming alive – and in so doing it is forcing us to look again, to disrupt our conditioned, habitual ways of seeing.
Israel-born, Harlem-based, Pinhassi takes his materials where he finds them. Since completing his MFA at Yale School of Art in 2014, he has exhibited in New York, Chicago, Paris, Milan, and Petach-Tikva. His preference, each time, is less to crate up the works from his studio and haul them to his destination. But to linger awhile, immersing himself in the raw stuff of that place. Before the present show at Edel Assanti in Fitzrovia, he spent a month in Suffolk. These sculptures are the product of that sojourn.
He has come away with a loose assemblage of objects suggestive somehow of a particular scene, that is at once familiar and strange. It's like a resort out of season – the guests have fled and the waning light has begun to cast a rough and tawdry air. What seemed shiny and pristine on first glance begins to lose its lustre.
There are no human figures on this scene, but the marks of their presence are everywhere. Up-close the cast of these freestanding pavilions is rough, handmade, a texture built up in layers of plaster around the steel frame, like the gritty paint on a canvas by Antoni Tàpies. Deft swirls of petroleum jelly on windows reveal the touch of the artist's hand. A chair in fleshy pink reclines lasciviously, taking on the form of a naked body, suggestive yet somehow precarious. Things take on a life of their own, interacting, somehow oblivious to our presence. An awkward, unwieldy kind of prurience.
"Resisting gravity is something every single building is doing," Pinhassi has said, "but usually buildings are made in a way that is not allowing you to see or to feel this active force and it make sense because being witness to gravity acting on a building would be a terrifying thing."
The works here at Edel Assanti may be suspended indeterminately between sculpture and architecture, between figure and ground. But they seem to want to reveal something of themselves to the viewer, to expose their own inner forces. You might say that gravity is a pulsion. It expresses a building's desire to return to a state of collapse and entropy, to commune with horizontality. Oren Pinhassi's works are structures with wants. We see our desires through them and find ourselves produced and reproduced as desiring subjects in their presence.
"I think," Pinhassi once said, at another time, of another work, "that I like to think about these as a kind structure that allows you to use it temporarily as an orientation for your body. Orientation here includes both sensual and physical elements, but also mental, and historical or intellectual. I am trying not to separate between these different elements and that could be both an orienting thing but sometimes a very confusing one." There is a grounding, even if the ground is constantly shifting; an anchorage with plenty of room, still, to slip and slide, rocking back and forth on unsteady waters. Not so much objects with meanings, or which represent ideas and values; more a space – and a feeling – to inhabit, tentatively, for a while.
5 August 2018