15 August 2018 The first solo show by Oren Pinhassi, in the UK is at Edel Assanti. Set in a large, well lit ground-gallery, 'Second Nature' encompasses twelve works subverting outdoor and indoor categories, in a visceral re-enactment of transforming social ambiances. Pinhassi was born in Tel Aviv in 1985 and is currently based in New York. He graduated from Yale University's School of Art M.F.A. (2014). On 19 May, Pinhassi's recent solo exhibition closed at Skibum MacArthur (titled "One in the Mouth and one in the Heart"). There, the trembling landscape he recreated today recalls 'Second Nature's' aesthetic atmosphere. Between a public space and a touching memory, both the exhibitions confront our notions of the salacious and taboos, the social mores and religious dogma that shape our reactions. Phantasmal pavilions we often construct to house and hide our desires and, at times, our shame.
In 'Second Nature', Pinhassi continues to create is abstracted renditions of gay cruising spots, from bathhouses to parks. Pinhassi, melting anthropomorphic structures together with urban architecture, tries to nullify any codified opposition between privacy and curiosity, between reality and its inner representation, between transgression and guilt.
In the architectural spaces, both physical and psychological, a pavilions' glass walls are rendered opaque by the artist's application of Vaseline in repetitive, painterly gestures. Frozen light-green palm trees ('One in the Mouth and One in the Heart I', 2018) allows the visitor to remain imprinted by the fantastical, corporal allure of Pinhassi's artificial gaze on Nature. Reclining chairs are personified, mimicking limbs and body language in their configuration. Serpentine towels are curled up on the floor – twisted and used, now hardened by the application of plaster.
Where bodily forms, at first glimpse, seem absent, the body's presence is suggsted by the scale or implied practical use of the structures. Smaller pergolas evoke tropical vegetation in their green colour and seemingly organic form, yet their rigidity suggests they too have some non-prescriptive purpose. Two glasses are attached to each of these umbrella-like trees, one at hand-held height and the other at genital height as a kind of memento. Orifices are disseminated throughout the exhibition, overtly gaping from pink burlap coated in plaster and hanging from a towel rack. Whilst the exhibition is sprinkled by sculptures, the relationship between physical environment, behaviour and remembrance emerges as the primary subject of Pinhassi's analysis.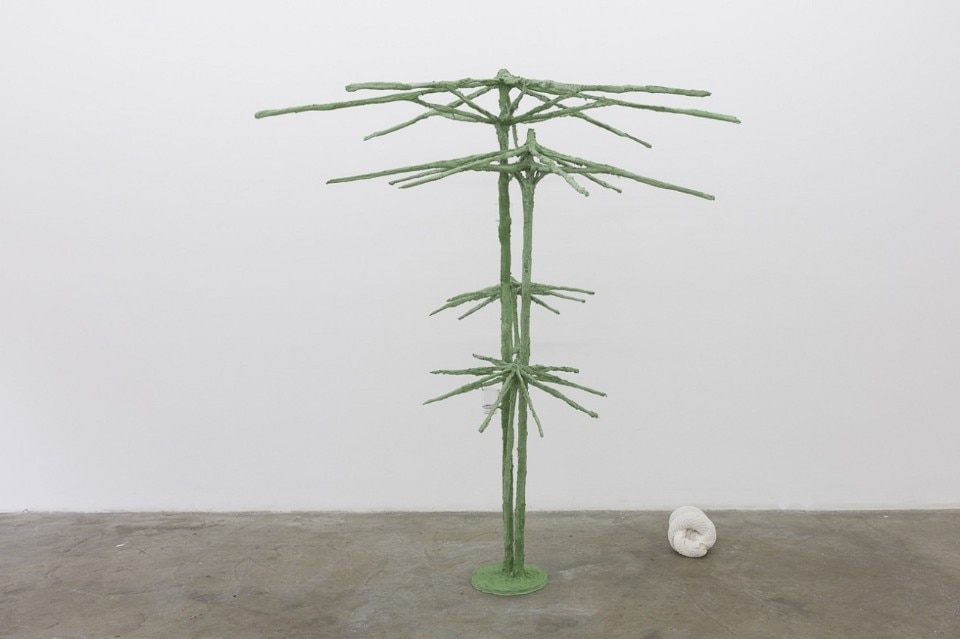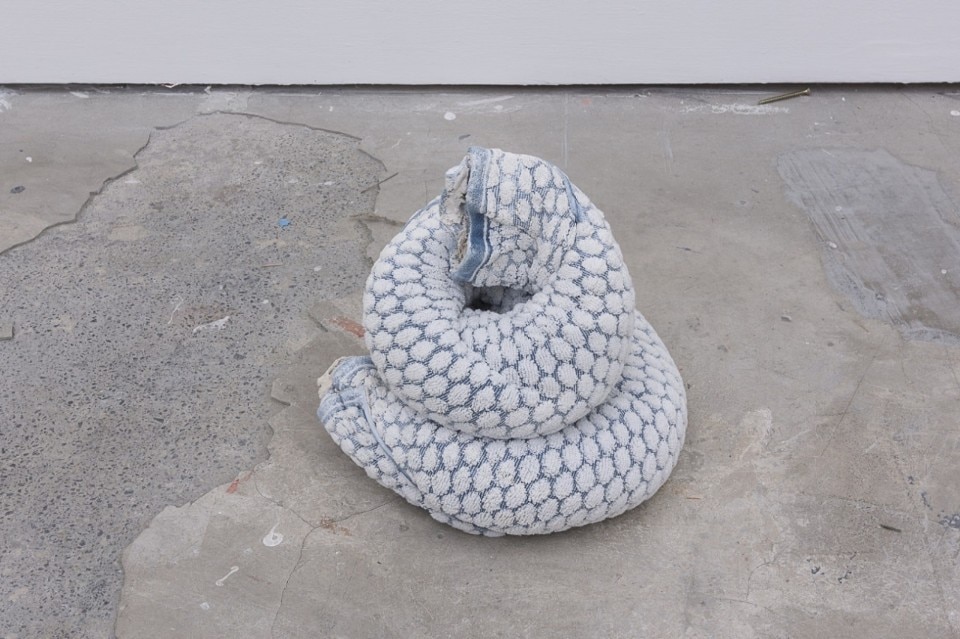 [Translation]
A Londra, nello spazio di Edel Assanti, l'artista presenta dodici lavori, componenti estratti da luoghi di incontro gay, dalle saune ai parchi.
La prima mostra personale di Oren Pinhassi, in Gran Bretagna, è stata allestita nello spazio di Edel Assanti. Disposta in una sola stanza, perfettamente illuminata, a piano terra, "Second Nature" include dodici lavori che sovvertono le categorie di interno e di esterno, nella rievocazione di un ambiente di metamorfosi sociale. Pinhassi è nato a Tel Aviv nel 1985, attualmente vive a New York e si è laureato alla Yale University School of Art, M.F.A. nel 2014.

Il 19 maggio 2018, a Los Angeles, è terminata una delle ultime personali di Pinhassi, presso la Skibum MacArthur (dal titolo "One in the Mouth and One in the Heart", come una serie di lavori presentati) e il paesaggio tremolante, flebile che ricreavano richiamava apparentemente l'atmosfera estetica di "Second Nature". Tra lo spazio pubblico e un ricordo tattile, entrambi i percorsi si confrontano con la nostra nozione di rappresentazione salace e di tabù, di dettami morali e di dogmi religiosi che modellano le nostre reazioni così come il pavillon che noi architettiamo per ospitare e nascondere tanto i nostri desideri, le nostre volontà, quanto una probabile vergogna.
Anche in "Second Nature", Pinhassi prosegue l'interpretazione astratta dei componenti allestiti nei luoghi di ritrovo di comunità gay, dalla sauna ai parchi pubblici. Pinhassi, fondendo le strutture, i tessuti dei corpi umani con alcune architetture urbane, prova ad annullare ogni codice oppositivo esistente tra la intimità e curiosità, tra realtà e ogni sua raffigurazione interiore, fra trasgressione e colpa. Spazi architettonici, tanto fisici quanto psicologici, mettono in mostra padiglioni dalle pareti di vetro, rese opache dall'applicazione, da parte dell'artista, di vaselina, ripetitivamente stesa da gesti pittorici. Alberi di palma color verde chiaro, apparentemente congelati (One in the Mouth and One in the Heart I, 2018) permettono al visitatore di rimanere impresso, più che impressionato, dall'attitudine fantastica e corporea dello sguardo artificiale di Pinhassi. Sedie riciclate vengono personificate, rese simili, nella loro configurazione, a organi umani e al linguaggio del corpo.
A terra, invece, asciugamani usati, annodati assieme, sono stati solidificati dallo stucco con il quale sono stati riempiti. E anche là dove le forme di un corpo umano sembrano più difficili da ravvisare, la presenza dermica dell'uomo si ritrova tanto sulle superfici quanto nelle proporzioni dei componenti scultorei, che implicano un uso pragmatico delle strutture. Piccole pergole che rievocano una post-atomica vegetazione tropicale, irrigidita da un color verde inorganico, appare, all'opposto fluida e privata di qualsiasi intento di ricreare vita. Due vetri sono stati applicati a ognuno di questi finti-alberi, uno ad altezza mano e uno ad altezza genitale, come a evocare una sorta di memento. Inoltre molti orifizi, sono stati occultati, lungo la mostra, come, ad esempio, nelle spaziature lacerate aperte su una sorta di asciugamano di iuta plastificato e appeso su una rastrelliera. Tutto introno, la mostra è costellata da sculture che rendono l'inchiesta di Pinhassi una ricognizione sulla transitorietà della memoria, che rimane il soggetto principale di ogni suo nuovo lavoro.
15 August 2018