05 July 2019 The 2019 Frieze Sculpture Park is officially open, with twenty-three new works by international artists. It's a bit different this time around, and the most monumental works have been created by women.
Let's get something straight: feminism doesn't have to be about femininity, and being a woman doesn't make you innately feminine. We all have the ability to connect with our inner gender spectrum if only society would unshackle us.
Frieze Sculpture Park officially opened this week in the English Gardens of Regent's Park. Twenty-three sculptures have been curated by Claire Lilley—who is director of programme at Yorkshire Sculpture Park—and will be on view for the next three months.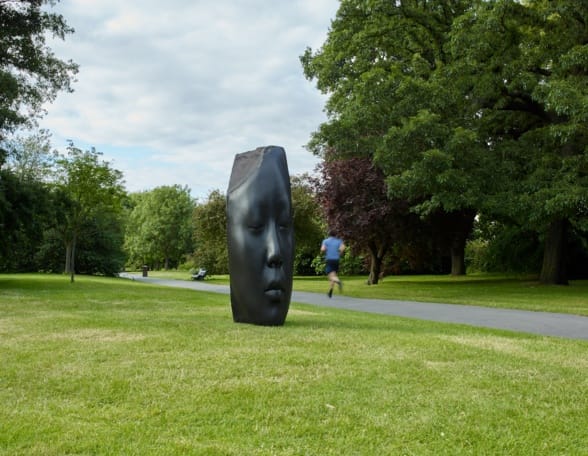 Jaume Plensa, Laura Asia's Dream, 2018. Galerie Lelong, Courtesy Frieze Sculpture 2019
Nostalgia and memories of childhood are something many of the sculptures share: Robert Indiana's numbers are just numbers but they also recall the number of different houses he'd lived in as a child (twenty). Tom Sachs reconstructs storybook character My Melody, at three-metres-high.Vik Muniz has made a full-size reproduction of a 1973 Jaguar E-type Matchbox toy car, while Huma Bhabha's robotic-looking figure (a similar one currently stands opposite Queen Victoria in the centre of Wakefield)looks like a protagonist from a parable.
Towering, teetering colourful works by Zak Ové and Peter Buggenhout add to the sense of play and movement in a medium that's usually very static and untouchable; you can listen to the sound of chicks hatching inside a giant egg, peer into a spherical Tudor tiny house, and even walk across works in this year's edition. It's all smart thinking given that a park is predominantly a place of play.
For Jaume Plensa, meanwhile, children are the direct subjects of the work: the Spanish artist, who is interested in transnationality, is showing one of his sculpted heads of a young girl—a representative of the female-fronted, more positive future, as he sees it. On the opening day, in front of the sculpture, two young boys were engaged in a wrestling match, unperturbed.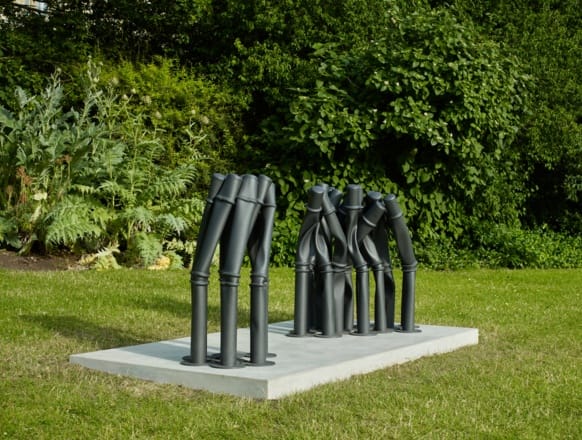 Bettina Pousttchi, Alexander 2015. Buchmann Galerie, Courtesy Frieze Sculpture 2019
Plensa's exploration of girlhood and the positive feminine force is a perfect counterpoint to what can be seen elsewhere in the idyllic setting of Regent's Park on a summer's evening—sculpture is, after all, all about balance. A number of the selected works by women artists are rugged, industrial and dark—there's a giant Tracey Emin bronze, an animalistic demi-form, curled up or ready to pounce, it's both menacing and vulnerable. It is, Lilley suggested, a self-portrait, created out of the pain following the loss of Emin's mother.
Bettina Pousttchi—who lost no time telling journalists not to take her photograph while she addressed them in front of her work—takes barriers from urban streets, bollards, crash guards and gates, and recasts them with subtle changes. "Why do they tell me what I should and shouldn't do?" the Berlin-based artist protested, speaking of the increasing restrictions to our movements in the public space.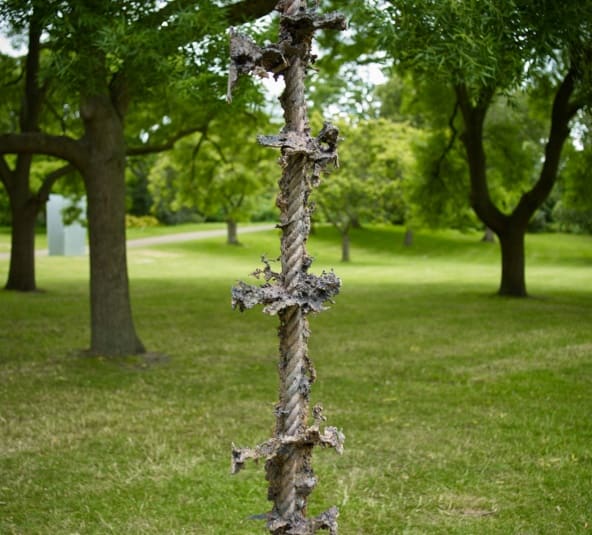 Jodie Carey, Cord, 2019. Edel Assanti, Courtesy Frieze Sculpture 2019
Lengthy, laborious processes behind other works give them their tough quality—Jodie Carey's Cord, originally commissioned by the Foundling Museum, is one example. Representing an umbilical cord, planted in the soil, the structure is a tangible exploration of the feat of maternity. A rope, a lifeline, a tie—it symbolizes a connection back to nature and the earth. In parallel, Lucy Skaer's apparently desultory chunks and slabs of rocks abandoned by the side of the path will provoke incredulity, but knowingly. The audacity! The bravado!
Tracey Emin, When I Sleep, 2018. White Cube, Courtesy Frieze Sculpture 2019
Dark and heavy materials, a dominant and domineering language, the FSP shows women sculptors getting in touch with their traditionally "masculine" sides—something rarely explored in this way. There's no fuss around gender in the way the park has been presented, but the subtext is unmistakable.
As the sculptures were inaugurated, the England team were sadly knocked out of the FIFA Women's World Cup. They may not have made it to the final, but they have shown the world what women can do at a record-breaking event. Men have always been able to dream of being professional footballers. The Frieze Sculpture Park has a similar message, albeit on a more modest and local level.
5 July 2019