Originally known as Ames House, the building was erected as a Young Women's Christian Association hostel for working women in 1904. It offered accommodation, a cheap public restaurant and a dining hall – reflecting in its history a snapshot of the story of women's emancipation in the late 19th century.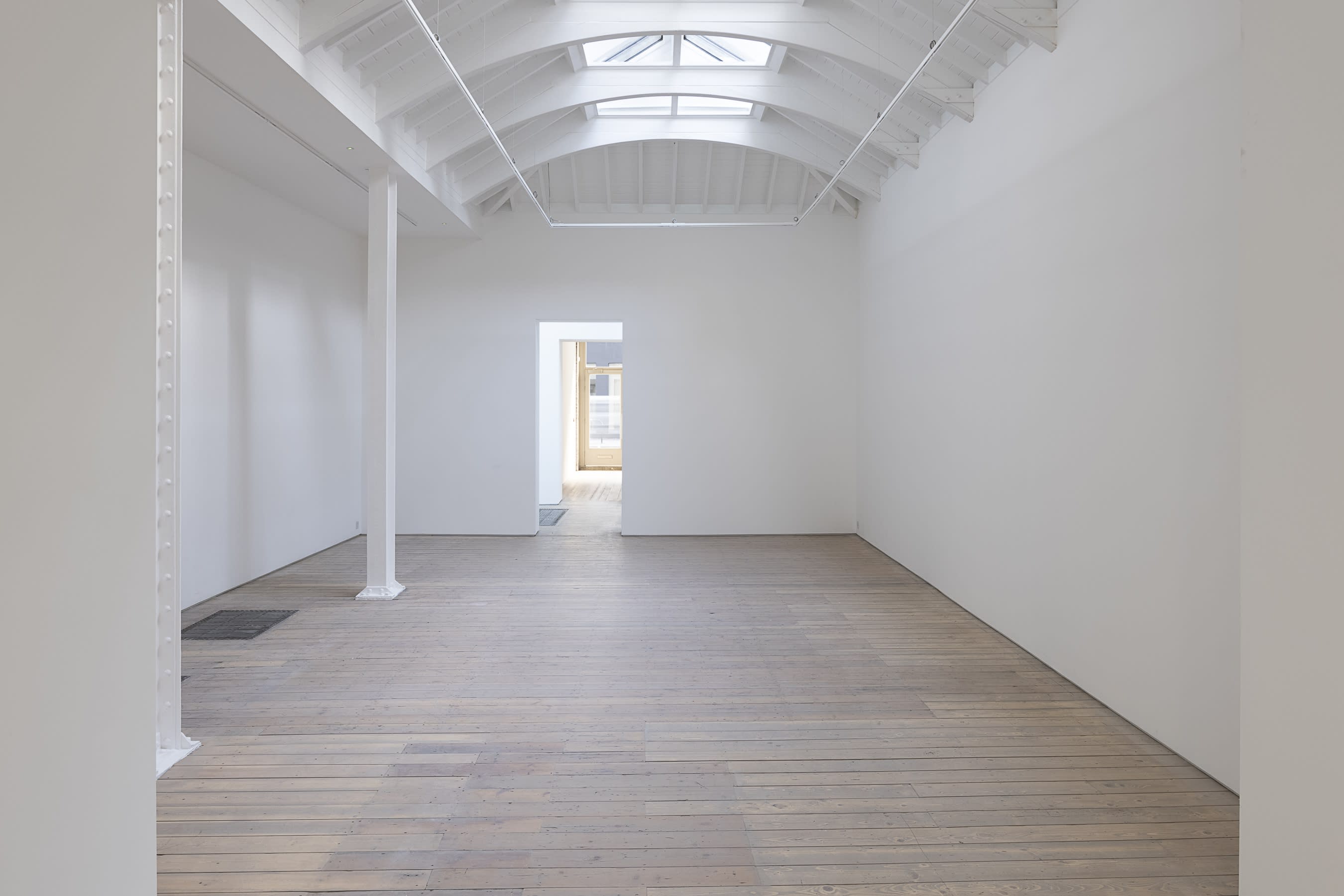 Edel Assanti's new gallery at 1b Little Titchfield Street. Photo: Will Amlot.
The architects developed a design for commercial gallery Edel Assanti that emphasises the retention of the fine proportions and varying light quality of the original rooms, which include a top-lit space at the centre of the plan that originally accommodated the restaurant.
Original features are celebrated within the spaces, which retain their distinct natural lighting conditions in order to provide a range of differing conditions for art across four galleries over two floors.
The thresholds between the ground floor galleries have been aligned into an enfilade so that artists and viewers can enjoy the combined 26m length of the space.
A new staircase within an existing conservatory at the heart of the plan connects the ground floor galleries to the lower ground floor, creating a Soanian-inspired threshold that brings indirect natural light to the lower ground floor gallery. This contains a further gallery space and private viewing room.
Architect's view
The ground floor of the building was originally designed as a place for gathering and included a reception room, dining room and a restaurant. Despite being 26m long in total, it was designed so each interconnected room within the ground floor had a generosity to its proportions and ample natural light. Across the ground floor we wanted to retain the proportions and the light qualities of each room while fine-tuning them towards their new purpose as flexible galleries for contemporary art.
One key problem to solve from the outset was the position of the main gallery stair and how we bought people and natural light down into the lower ground galleries. This stair would form the public route between the ground floor galleries and the lower ground galleries. We proposed creating a 'stair room' in an existing heavily glazed threshold between the gallery on Mortimer Street and the top-lit gallery in the centre of the plan. The stair design was developed and carefully calibrated in relation to the existing windows in this threshold. We wanted to make a stair that was comfortable and delightful and maximised the amount of natural light able to fall indirectly into the basement gallery.
The balustrade design was developed to riff on the rhythms found in the existing glazing bars. The result is a threshold animated by natural light that sits effortlessly within the grain and rhythms of the existing building.
Tom Benton, director, Sanchez Benton architects