30 November 2022 The art fair, now celebrating its 20th anniversary, features thoughtful work but shies away from taking chances.
The Miami area has always been known to push boundaries. It gave us genre- and game-changing personalities like Gloria Estefan and Antonio Brown. It serves as a financial gateway to the Americas and dared to put the Key lime into a pie. It arguably invented the hurricane party and had no small role in America's 1980s cocaine habit. Which makes the risk-averse nature of 2022's Art Basel Miami Beach especially surprising.
This year's edition of the sometimes notorious, always well-attended art fair marks the event's 20th anniversary and is its largest iteration to date, filling the Miami Beach Convention Center with 282 exhibitors from 38 countries and territories. And while there are few if any revolutionary works at the bloated proceedings—it took me nearly eight hours to make my way through the labyrinthine booths—technical skill and thoughtful compositions mean that there is still plenty of art that stands out.
Finding a coherent message across dozens—if not hundreds—of different exhibitors at an art fair is difficult even at the most zeitgeisty of times, and this isn't one of those. That said, a focus on our physical form recurs across several displays. Cronenbergian body horror is present, whether in older creations like Judy Chicago's massive, crocheted "Birth" (1984), exhibited by Jessica Silverman and depicting just what it describes, or newer pieces like those of Samara Golden shown by Night Gallery, rainbow-hued wall sculptures made this year that could be unicorn viscera. While still corporeal, works elsewhere are more playful, like Jonathas de Andrade's clay sculptures at Galeria Nara Roesler of human midsections clad in lost swimwear he collected in Brazil.
For an art fair that focuses on the contemporary there are several rewarding surprises from the past. At DC Moore, "Bayou Fever" (1979) is a series of 21 energetic collages by Romare Bearden that tells the story of a struggle between the Conjur Woman and the Swamp Witch. Imbued with mysticism and bursting with color, these images were created as the starting point for a dance that Bearden hoped would be choreographed by Alvin Ailey but, alas, never came to be. In the same booth, 15 Jacob Lawrence silkscreens (1986-97) recount "The Life of Toussaint L'Ouverture," leader of the Haitian Revolution. Lawrence created several series focused on black history—his "Migration Series" is the most celebrated but other projects also looked at Harriet Tubman and John Brown, for example—and these pieces are just as compelling and immediate as his best work. And at Hirschl & Adler, George Tooker's "Stations of the Cross" (1984) fully engages the artist's Renaissance-influenced tempera technique by depicting the holy story across 14 panels focused solely on the hands of Christ (for which the painter used his own as models). The result is simultaneously classical and modern, at once religious and secular.
Smart curation is also a highlight at several booths. First among them is Kavi Gupta's space that features several artists playing with art history, albeit in very different styles. Arghavan Khosravi's "Our Hair Has Always Been the Problem" (2022), in which a woman stares out at us, her locks about to be chopped off by a guillotine, is a potent, timely commentary on the place of women in the Iranian-born painter's home country, and the delicately rendered garden behind her calls to mind Persian miniature painting. Nearby, Tomokazu Matsuyama's brightly colored tondo portrait employs a visual language drawn from contemporary pop culture and Japanese manga while nodding to Renaissance compositions, and Suchitra Mattai's wall textile combines vintage saris and embroidery to wrestle with colonial history while riffing on the tradition of European tapestry. Also noteworthy is the display by Annely Juda Fine Art that juxtaposes new works by Japanese ceramicist Raku Jikinyū with the century-old geometric drawings by Kasimir Malevich that inspired them. One glance at these competing yet complementary pieces collapses three dimensions into two, only to have another look reverse the process and have the planar explode into voluminous form.
As is the norm at fairs, engaging painting is omnipresent here—at Peres Projects, Shota Nakamura's "Untitled (A Young Boy in Forest)" is a pastoral depiction of the titular character reading in nature that's rendered in Gauguin-like green and ochre hues; Astrid Terrazas's neo-Surrealist "Wishing We Could've Packed Our Doorframe" at PPOW is crammed full of autobiographical details, religious symbols and Mexican folklore; at Pilar Corrias, Manuel Mathieu's frenetic abstraction seems to breathe, and if you stare at it just right, a figure starts to emerge that looks like it was pulled from the nightmares of Francis Bacon or Lucian Freud.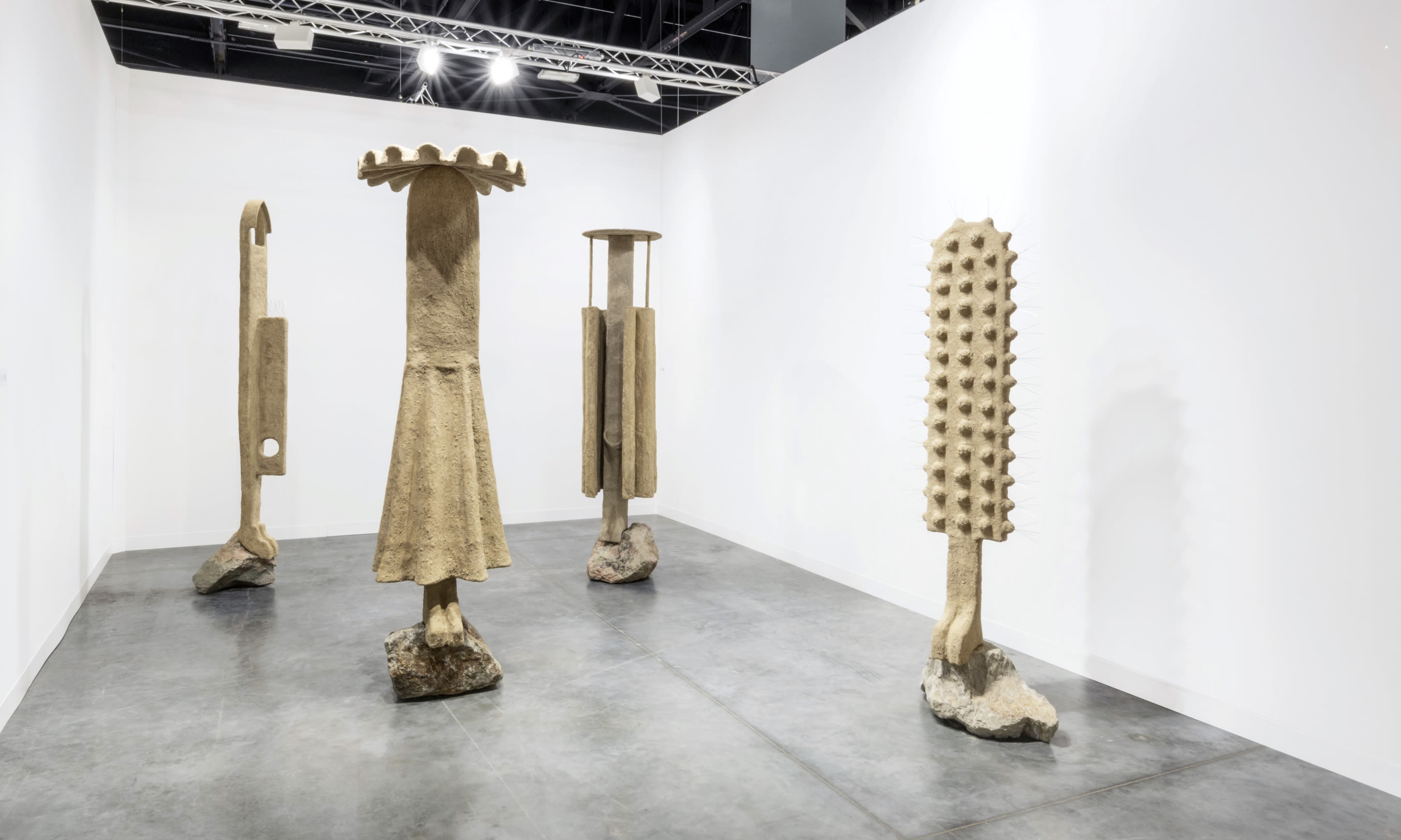 Oren Pinhassi: I Would Talk About the End, installation view, Edel Assanti, booth P17, Art Basel Miami Beach, Miami Beach, 2022. Photo: Mikhail Mishin.
But the most exciting work in Miami is three-dimensional. The sand-encrusted totems of
Oren Pinhassi
at Edel Assanti's booth greet us like Brancusis that have just been on a long journey through the desert. At Travesía Cuatro, a rough-hewn chunk of clay sprouts elegant orange fronds as if some sort of extraterrestrial fungi in
Teresa Solar
's "Tunnel Boring Machine."
Eduardo Sarabia
's installation of Mexican pottery and custom-made shipping crates at OMR is instantly enchanting, but on closer inspection the works are packed with numerous references that range from the immigrant experience and narco culture to Nafta and Warhol's Brillo boxes.
Curtis Talwst Santiago
's miniature dioramas in reclaimed jewelry boxes, on view at
Rachel Uffner
, explore black life in rich detail and warrant slow looking (magnifying glasses are included!).
And Do Ho Suh's "Inverted Monument" at Lehmann Maupin is the closest thing to a showstopper at this year's fair: A massive plinth with an upside-down figure encased inside challenges traditional notions of hero worship, while the delicate plastic strands that constitute the work make it seem light as air. For an art fair—and a place—known for spectacle, it's a quiet capstone, but one that proves that extravagance isn't the only way to grab attention, even in Miami Beach.
30 November 2022