23 January 2023 He makes films filled with gore, monsters and bizarre fetishes and looks like Mr Tumnus at a techno club. Could this prosthetics-wearing, jockstrap-clad raver be the UK's most exciting new artist?
Jenkin van Zyl's art features many of the elements of a good party – balloons, cake, inflatables, dancing. But any likeness to a toddler's birthday stops there. His oeuvre is distinctly NSFW (not safe for work). The cast members of his movies are outfitted in grotesque monster masks and strappy fetish garb. Fake blood flows abundantly. His films are jittery and claustrophobic, sticky with yearning, pulsing with menace.
"I'm interested in extremes," he tells me. "Art becomes a really good excuse for doing things that are bad or deviant, or experimental."
I first encountered van Zyl's work at the Kiss My Genders show at the Hayward Gallery in London in 2019. His five-screen film Looners was installed in a rickety wooden fortress filled with prop swords and axes. On screen, a rabble in creepy latex masks and extravagant inflatable costumes engaged in gross and mysterious activities in a desert palace. Shot when van Zyl was a student at the Royal Academy of Arts in London, Looners felt like illicit footage of forbidden rites: something tribal was taking place, though it was unclear what.
I meet van Zyl, now 29, on the first installation day of a show at London's Edel Assanti. The gallery is piled with mattresses and wall panels, to be transformed into a "love hotel" from which to watch his new film Surrender. It's his first work to use an official location: the previous three were filmed on old movie sets while cast and crew dodged dogs and security guards. His first film, Fort Bravo, was shot in Spain on spaghetti western film sets: "It was just me, a friend, and a flip cam, with a rucksack of jockstraps in the desert," he says.
Filming on a micro budget has led to formal inventiveness. Memorable shots in Looners were shot inside huge weather balloons, as though in utero with the characters. Van Zyl leaves artifice evident. A pair of grappling hands, dripping in gore, are shown having fake blood applied from a bottle. The thick borders of latex masks are left exposed, ditto the pink silicon edges of fake breastplates. Van Zyl achieved certain spectacular shots because he and his cast of close friends were willing to put themselves on the line.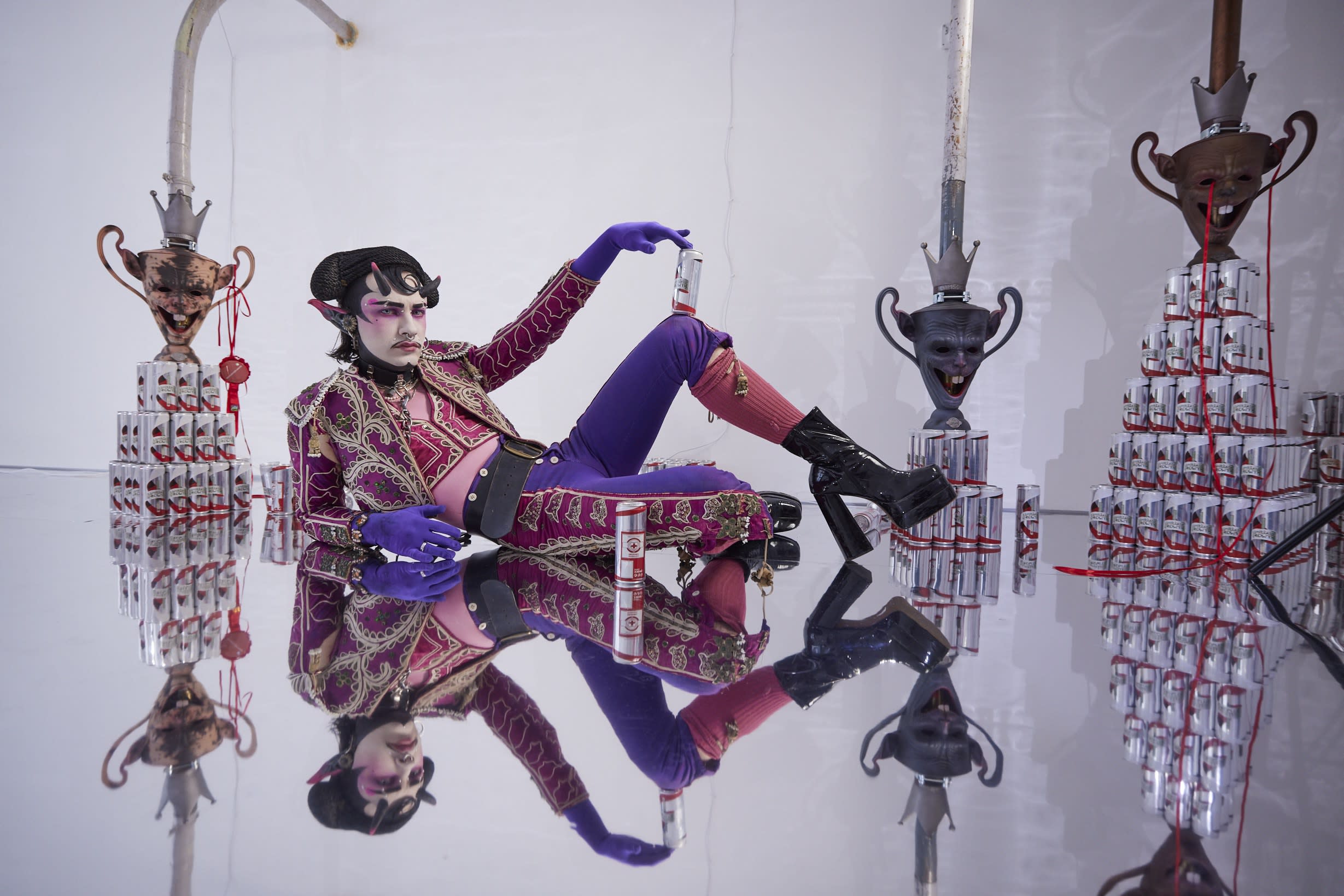 Jenkin van Zyl, Surrender at Edel Assanti, London. Photograph: David Levene/The Guardian
He has been through fire and ice for his art. For Fort Bravo, van Zyl "bought flame paste from Flints theatrical chandlers – I thought I'd discovered this magic special effect. I covered myself in the flame paste and set myself on fire in my flat. It is the most idiotic thing I've ever done: the latex mask was melting into my leather jacket." Was it worth it? Absolutely. "The shot's amazing, it looks like I'm Icarus, with flame wings."
This desire to push his body to the limits led to van Zyl performing as a body double outdoors in Iceland for Machines of Love (2020/21). Dressed in a latex mask, crop top and high-heeled platform boots, the character emerges from a subterranean game zone into the pristine whiteness of a sub-zero spring, then clambers up an exposed slope through deep snow before lying down at the top. "I got totally lost in a bewildering snowstorm," recalls van Zyl. A friend operating the drone was meant to guide him back down the mountain. By the time they retrieved him "my whole mask had filled with thick snot and vomit – I had gone into hypothermic shock".
Extreme experiences and the quest for personal freedom inform the new work Surrender. The central character Grace – played by artist Alex Margo Arden – is a rat-faced woman summoned to a love hotel for a week of bizarre trials centred on a dance marathon. Shot with a cast that includes voguers and go-go dancers, it explores the dancefloor as a site of rules as well as liberation. "I'm interested in the politics of nightlife spaces – of the loss of self within a crowd or group – but also, how they become a microcosm of issues outside the nightclub: of misogyny or transphobia or racism or living under capitalism." Surrender uses "this idea of the queer nightclub or the dancefloor to examine other structures of control."
23 January 2023