11 May 2023 Fancy a city trip in your own country? In between shopping and good food, be sure to make time for a sniff of culture. These 5 new exhibitions in Antwerp are must-sees!
The Group, Marcin Dudek
Does the name Marcin Dudek not immediately ring a bell? The Group is the perfect first introduction to his haunting sculptures and installations. The Polish artist grew up as a member of the violent hooligan group around football team MKS Cracovia, and pryed himself away from this community by radically choosing art. Looking back at his hooligan past, Dudek broaches themes of mass psychology, group dynamics and safety. From rattling stadium fences to a giant bomber jacket dangling eight metres above the ground.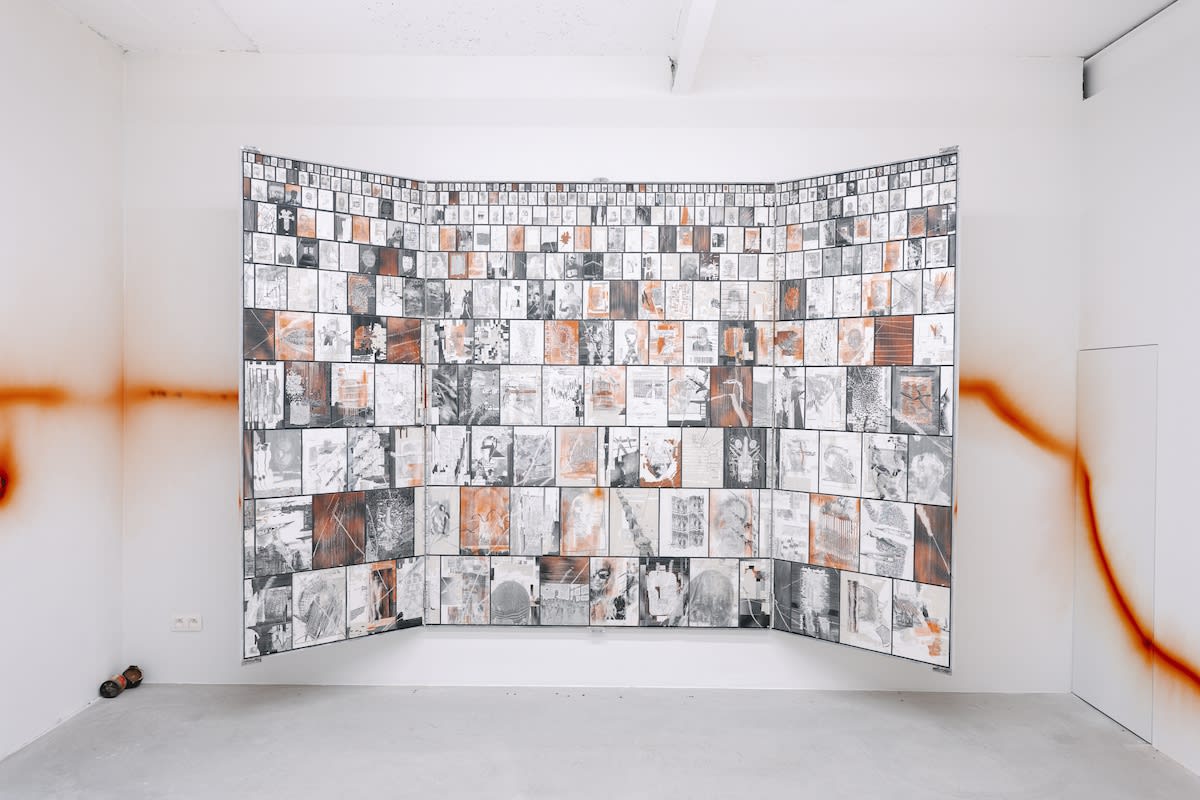 Marcin Dudek, Tablica, 2021.
Prologue, Ritsart Gobyn
He recently participated in the group exhibition Head Games at Piermarq Gallery in Sydney, but soon Ghent artist Ritsart Gobyn will do it all solo. In Prologue, he takes the viewer into the act of painting. At first glance, his paintings look like a random collection of paint smudges, tape, bits of wood or scraps of paper on a raw canvas. But once closer, you recognise little trompe-l'oeils. Everything you thought you saw turns out to be an illusion. Go and discover it for yourself during Antwerp Art Weekend.
An Angel, Kissing Spring, Dirk Van Saene
Also on show during Antwerp Art Weekend is Dirk Van Saene's second solo exhibition at Gallery Sofie Van de Velde. He put Belgian fashion on the world map in the early 1980s as one of the 'Antwerp Six', but surprises today with his sculptures. A nice reminder that we cannot stop time. "It feels uncomfortable to realise that nothing is eternal, but this thought both paralyses and liberates. Thus, time remains both friend and foe," Van Saene said.
Portraits, Zachary Armstrong
Brand new in Antwerp: GNYP Gallery in Jan Van Rijswijcklaan, the second branch of gallery owners Marta Gnyp and Giovanni Springmeier after Berlin. They open with the exhibition 'Portraits', where you come face to face with a dozen life-size paintings of ... roosters. 'Are they that much different from the filtered advertising images of influencers on social media?', American artist Zachary Armstrong wonders. To give goosebumps.

Man Ray and Fashion
What a man that Man Ray! ModeMuseum Antwerpen highlights the Jewish-American photographer's oeuvre from a fashion perspective. His surrealist style caught the eye of leading couturiers such as Paul Poiret, Elsa Schiaparelli and Coco Chanel, and Harper's Bazaar, Vanity Fair and Vogue also regularly collaborated with him during the roaring twenties. MoMu curator Romy Cockx also cites contemporary and even Belgian fashion talent for completeness (Olivier Theyskens, Dries Van Noten, Quinten Mestdagh ...) - proof that Man Ray's influence remains burningly topical.
11 May 2023