Home Fires 02 focuses on Victoria Lomasko's largest mural to date, Under Water, 2020 - commissioned by Kunsthalle Wien for their current exhibition ...of bread, wine, cars, security and peace, curated by What, How & For Whom.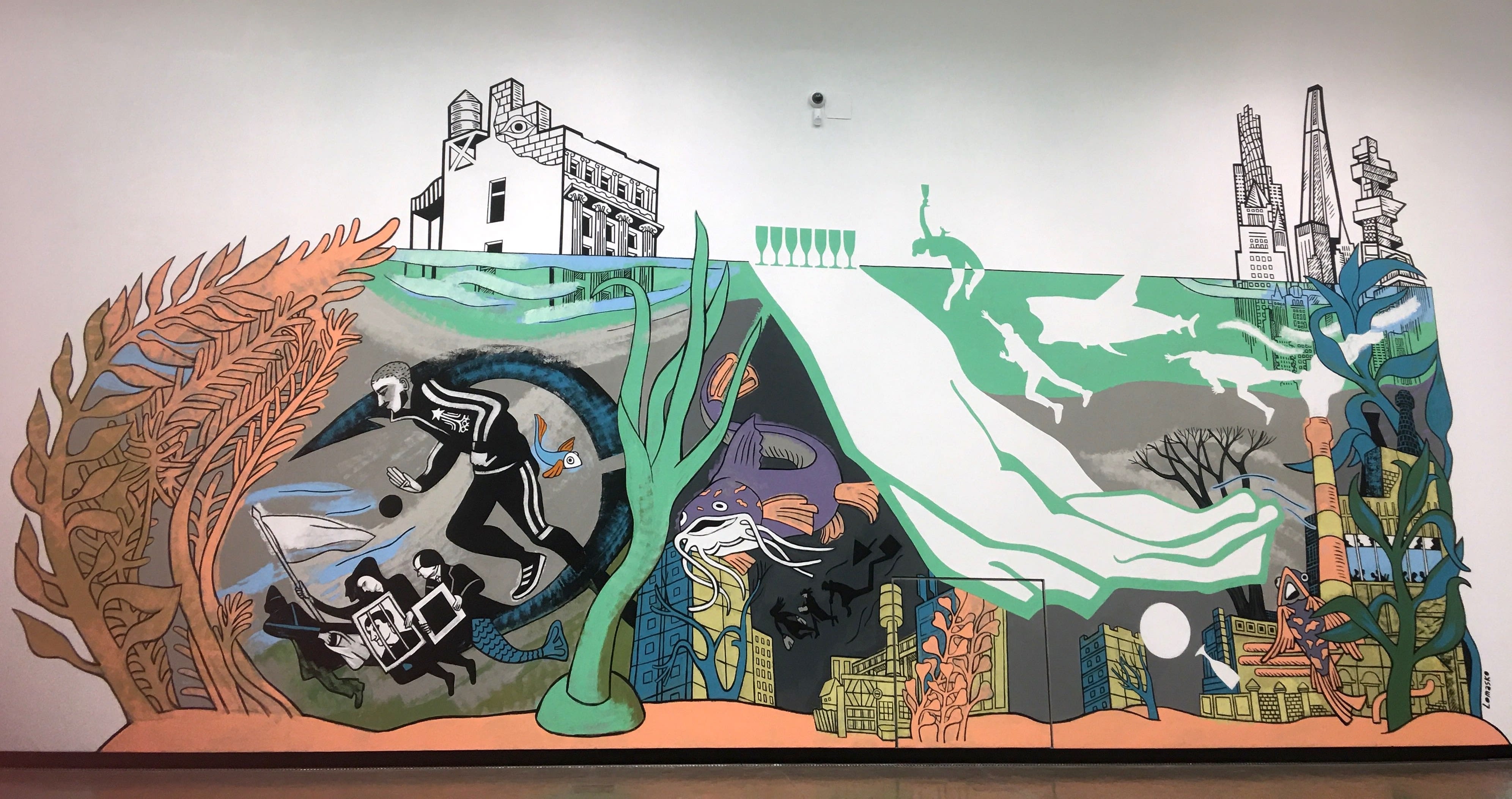 Victoria Lomasko, Under Water, 2020, acrylic mural, 500 x 1100 cm
Under Water processes the artist's experience of returning home to Moscow after travelling across the United States. Employing Lomasko's graphic realist style, the 11 metre wide mural unfolds like a dream-sequence, juxtaposing western and eastern iconography: on the right, the New York city skyline and Damien Hirst's shark and at left, Moscow's industrial architecture looming above Malevich's black square.
"Whenever I return to Russia, I feel myself slowly sinking back to the bottom, like a creature who'd come out onto dry land, but was nonetheless born to live underwater. It seems as though Moscow, with poplars like kelp, lies hidden beneath thick layers of steely water: you must overcome its resistance with every step."

-Victoria Lomasko, on the mural Under water

Both Lomasko's mural and our discussion in Home Fires invite us to acknowledge that despite the allure of opportunity and artistic freedom afforded by western cultural systems, the "underwater worlds" of less visible, more challenging landscapes give birth to "daring new creatures", creators of culture for its own sake.

Making of 'Under Water'

Sex, Drugs, Success and Death

Sex, Drugs, Success and Death

was commissioned by GQ Russia between 2005-2011

. Lomasko recalls these

post-Soviet

years

preceding

Vladimir Putin's current regime

with affection;

a moment

which afforded unprecedented freedom to artists, journalists and activists to engage in political discourse.

These rakish watercolours masquerade as traditional Russian luboks

(17/18th century woodblock/etched prints)

, offering an insight into the black humour and

satirical attitude

that

Lomasko

believes positively impacted society and political discourse during these years.

Predating the graphic reportage work

that brought Lomasko to prominence

, the series exemplifies an earlier

pictorial

approach,

draw

ing

on fantasy and folkloric narrative

,

that is clearly synthesized in the artist's most recent murals.

Biography

Victoria Lomasko holds a degree in graphic art and book design from Moscow State University of Printing Arts. Her book Other Russias, a collection of graphic reportages on social themes, was published in the US by n+1 and in the UK by Penguin. Drawing on Russian traditions of documentary graphic art, Lomasko explores contemporary Russian society, witnessing the country's diverse subcultures, such as Russian Orthodox believers, LGBT activists, migrant workers, sex workers, and collective farm workers in the provinces. Her work has appeared in Art in America, The Guardian, GQ Russia and The New Yorker and in exhibitions globally, including at Kunsthalle Wien, Vienna, Austria; Garage Museum, Moscow, Russia; GRAD at Somerset House, London, UK and the Cartoonmuseum, Basel, Switzerland.

"I am often asked, "Can art change the world?" I don't believe that art directly creates revolutions, but it does inspire people to live as free individuals."

-Victoria Lomasko