4 May 2022 Alongside Eye of the Collector and Photo London, it will be a busy few days for art lovers.
The first London Gallery Weekend last year proved a big success, despite torrential downpours on its opening day, and in the absence of art fairs and other galvanising mass events offered a new approach to selling art. This year it's back, from May 13-15, with 150 contemporary art dealers rolling out the red carpet to art enthusiasts and mega-collectors alike. The long weekend encompasses London, focusing on its centre on Friday May 13, south London on Saturday and the East End on Sunday, though galleries in all zones will be open throughout.
"The idea of thinking more locally was relevant before the pandemic, but it was easier to get everyone on the same page when they weren't all in airport lounges," says Jeremy Epstein, co-founder of Edel Assanti gallery and LGW's director and co-founder. "In the first edition, we were focused on a very local audience. This year we can do a lot more and really open up to the rest of the UK and internationally."
The biggest change is the arrival of more public-facing events, including performances, artist talks and activities for children — HackelBury Fine Art promises a treasure hunt. Mandy El-Sayegh's "The Minimum" becomes the event's first performance-based public art commission, taking place in each of the three London zones, in collaboration with UP Projects.

LGW has joined forces with the Art Fund to bring curators from 18 institutions outside of London — based in cities from Aberdeen to Penzance — to the weekend. "It's not just a case of putting them in a hotel room and getting a train ticket, we want to be an artist concierge service, to facilitate meetings and so forth," Epstein says. The aim is to strengthen relationships between the country's regional museums — several of which have struggled since the Covid-19 pandemic — and the London gallery community, generally better attuned to extending its relationships overseas.
There will be plenty for them to see. Epstein's gallery has a show that encompasses music and visual art by the American artist Lonnie Holley, including a live performance in the West End on May 14 (in collaboration with Artangel). Other planned exhibitions show how varied contemporary art can be. There are Japanese tea bowls by grandmaster Raku Kichizaemon XV alongside drawings by the Ukrainian avant-garde artist Kazimir Malevich at LGW newcomer Annely Juda Fine Art.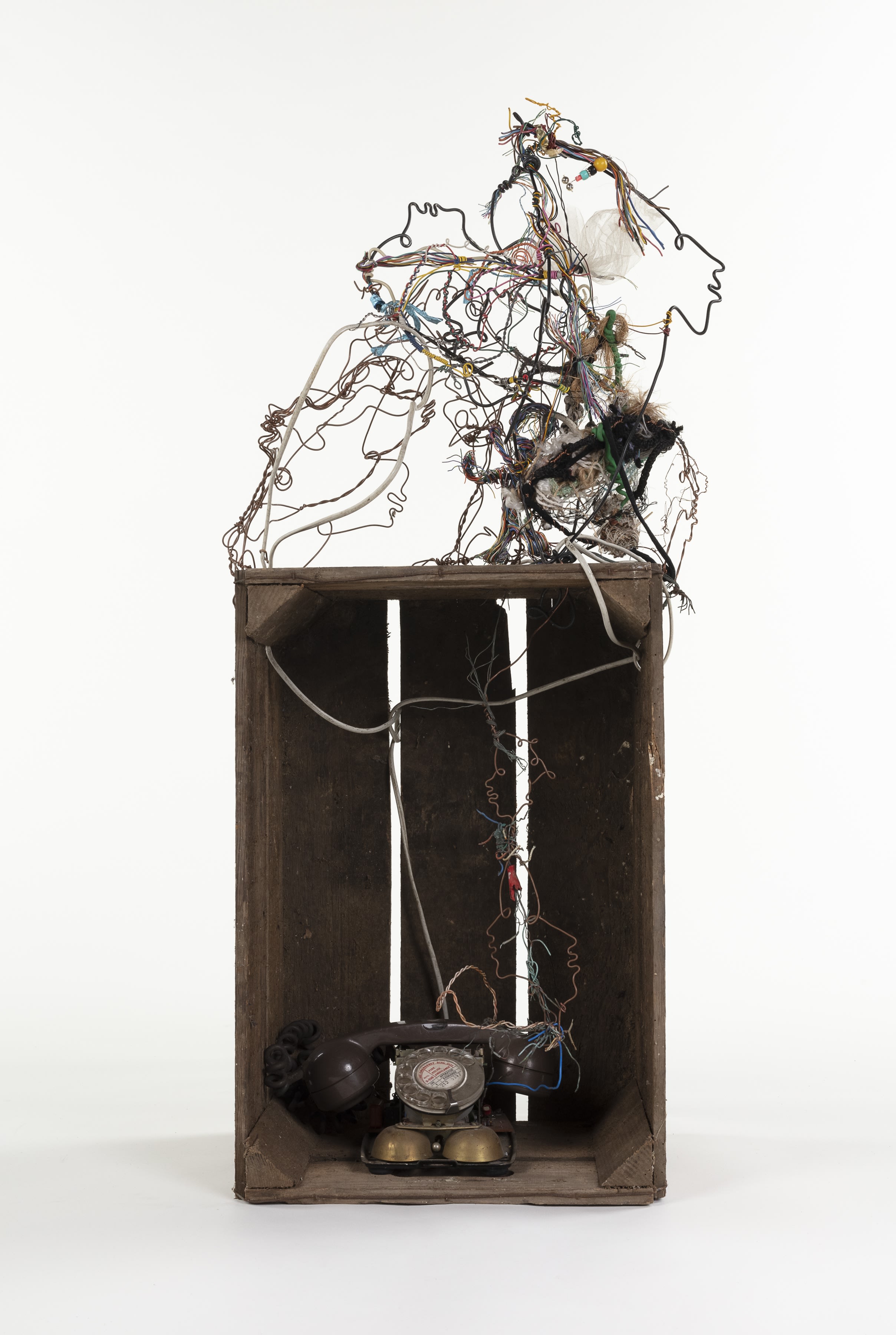 Lonnie Holley, The Growth of Communication, 2022, Wooden milk crate, telephone, cotton thread, telephone cables and wire, 98 x 44 x 30 cm. Photo: Will Amlot.
White Cube in Mason's Yard has 20 years of work by Canadian photographer Jeff Wall while Cooke Latham Gallery in Battersea shows science-fiction-inspired sculptures by London-based Rafał Zajko which address the treatment of the LGBT+ community in Poland. At Sid Motion Gallery is a collaborative photography-based project by Brian Griffiths and Frank Kent, with a critic-led walk-through of their show on May 14.
Several artists receive their first solo UK shows through LGW. South African photographer and stylist Trevor Stuurman is at Doyle Wham on Rivington Street; the late feminist artist Nicola L, whose revival includes a major exhibition at Camden Art Centre in 2024, is at Alison Jacques; and the buzzy Chicago-born painter Robert Nava shows at Pace Gallery.
Sadie Coles, whose WhatsApp group got the ball rolling during the depths of the pandemic lockdowns, has offered her Davies Street space to four galleries from India, which share an exhibition. Some members of Cromwell Place, a gallery hub through the year, are participating in LGW, with highlights including pandemic-inspired photographic works by Joanne Dugan (Black Box Projects).
The event, already more environmentally friendly than most art fairs because the exhibitors do not need to travel, is also supporting the Gallery Climate Coalition this year, which is hoping to develop further its membership among the London galleries.
Even the art fairs have cosied up to the apparent competition. Frieze has partnered with this year's LGW, sharing the costs of an opening party and hosting other co-promoted events. Two galleries temporarily in Frieze's 9 Cork Street building, Gallery Baton and Galerie Poggi, also participate.
This year there are some actual art fairs in town too — a quirk of the calendar as LGW's preferred early June slot clashes with the Queen's Platinum Jubilee bank holiday. The elegant Eye of the Collector fair has its second outing in London (May 12-14, Two Temple Place), with a distinct emphasis on female artists, design and more contemporary art than last year. "May is a great time in this city," says founder Nazy Vassegh. "The weather gets better, it's not during the school holidays and is before the freneticism of the June season."
Addis Fine Art brings recent work to Eye of the Collector by the Ethiopian modernist Tadesse Mesfin, accompanied by pieces from two of his pupils, Tizta Berhanu and Nigatu Tsehay. The latter also has a solo show at the gallery's space on Eastcastle Street. "The pandemic taught us that we need to be more local," says co-founder Rakeb Sile. "Having already opened a new permanent space in London during Frieze, we can now participate in another moment when the city gets activated."
Around the corner, Photo London resumes its May slot with 75 core galleries in Somerset House (May 12-15). Highlights include a survey of the fashion photographer Frank Horvat, encompassing his lesser-known images of Parisian cabarets, and a solo booth of work by the South African Mikhael Subotzky at Goodman Gallery. This features an imposing, nearly four-metre-high lightbox from his Ponte City series, made in collaboration with Patrick Waterhouse, which charts the fate of an apartheid-era apartment block (2008-20). The photo fair serves as a platform for a bigger show — Subotzky has new work at Goodman Gallery in London later this season. The gallery also participates in LGW with the Egypt-born artist Ghada Amer.
Jo Stella-Sawicka, senior director of Goodman Gallery and an LGW co-founder, says: "The combination of these three events in just one weekend provides an unparalleled time to see and visit London. This city is open for business."
4 May 2022