19 May 2022 From a tombstone epiphany, the Alabama sculptor has explored the meaning of art for decades — and adds music to convey his raw surrealist and sociopolitical message.
Art came into Lonnie Holley's life, improbably and unannounced, when he was 29 years old, following a family tragedy. He made two tombstones for a nephew and niece who died in a house fire in his home city of Birmingham, Alabama. In the process of their manufacture, he unexpectedly found himself infused with a rare sense of tranquility. "My mother, out of 32 pregnancies, she gave birth to 27 children," he says calmly. "There was always a lot, a lot of children around."
The commemorative commission encouraged Holley to work more in the sandstone-like material, produced as waste by a local foundry and which lay in its grounds. "I found it was a way of making myself content," he says. "And it was a way of lifting the veil of stress that was over my mother's sister and her family. But I didn't know then that what I was doing was art."
That epiphany came later, when a neighbour approached him as he was working. "He said to me, 'Ain't you one of the Holley boys?' I said, 'Yes, I am,' and he asked, 'Do you know what you are doing?' And I said to myself, 'Yeah, I'm making tombstones,' but I said to him, 'No, not really.' And then he said, 'You are doing art. And I have seen it all around the world and never seen anybody do it like you.'"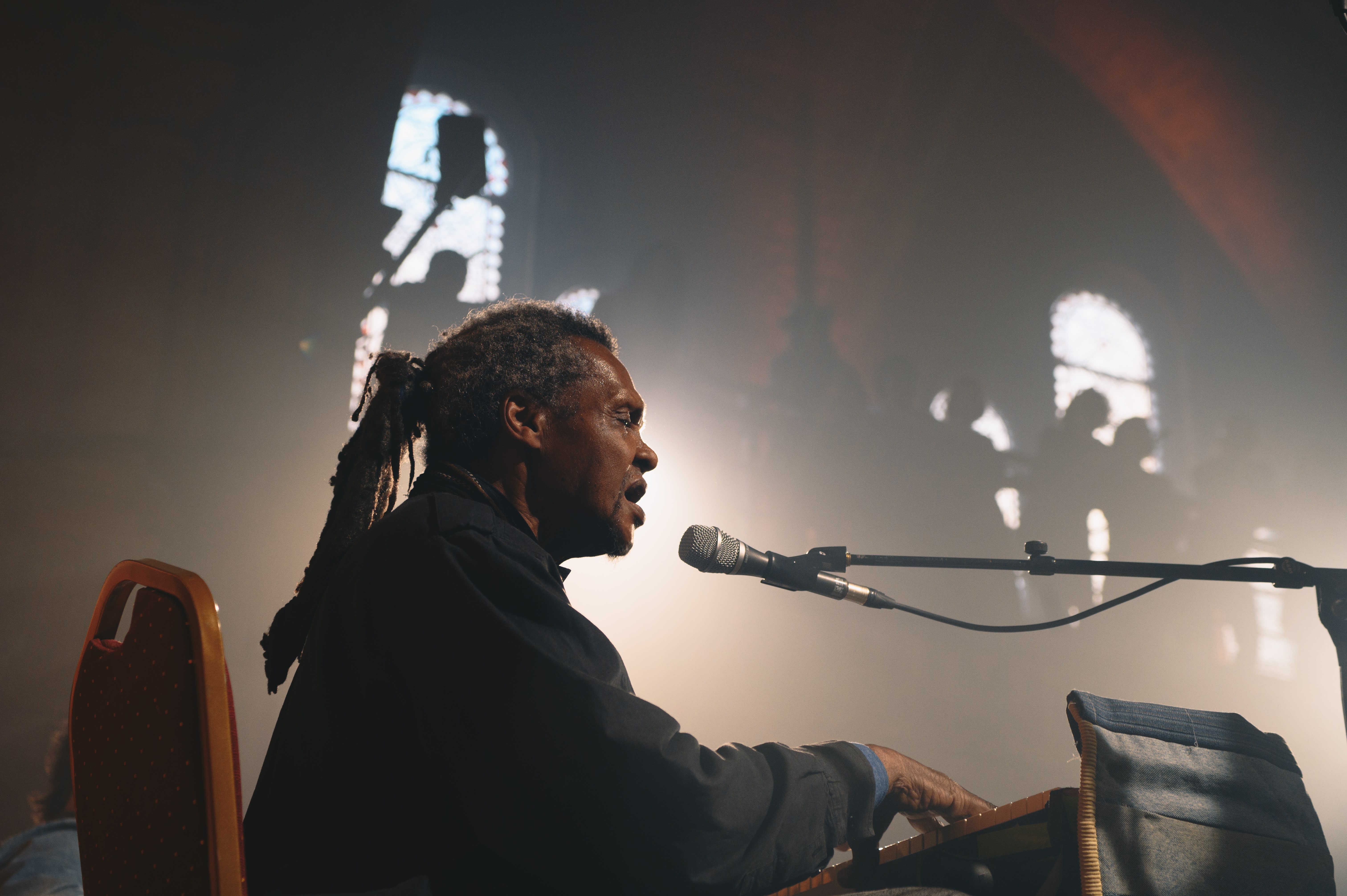 Lonnie Holley Live at Stone Nest, 2022. Photography: Aiyush Pachnanda. Courtesy of Artangel and Edel Assanti.
We are sitting in the airy surrounds of the Edel Assanti gallery in central London, surrounded by some of the art that Holley has produced in the 43 years since that day. Now 72, he has come a long way from tombstones; the new works are made from found objects, put together in strange and witty ways. In The Growth of Communication (2022), which gives the exhibition its title, the remains of an old telephone are placed inside a milk crate, attached to wires that form an incoherent jumble on top.
Other pieces have a more obviously sociopolitical point. Working in the House (2020) shows a battered vintage picture frame, from which hang a dozen white gloves and a single black glove. The image is simple yet loaded. "We could be in Gone With the Wind," says Holley. "You can see the plantation. The nanny, the old woman, the chef."
The London show largely consists of work made by Holley during recent visits to the UK. The objects he has used come from Orford Ness, the former military testing site in Suffolk, now a nature reserve, at which radar technology was developed. While working there, he also made films of his own musical performances as part of a commission from Artangel. Another part of the project was a concert in mid-May in Stone Nest, a haunting central London space.

Music, says Holley, is the "Siamese twin" of his art. His experiments with sculpture are part of a deeper exploration, while music offers a faster, catchier resolution. His songs are raw, occasionally cacophonous, part social commentary, part surrealism. His ease with different art forms and genres and abrupt shifts in tone appears to come naturally.

It was evident from his beginnings, as an artist who didn't know what art was. Following the fateful exchange over the tombstones in 1979, Holley was encouraged by another well-wisher to "stop waiting for the town to come to you, and take your work to town". He took the advice and arrived at the Birmingham Museum of Art in Alabama with samples of his work in 1981. Three of his pieces were immediately selected for inclusion in a show at the Smithsonian American Art Museum in Washington, DC.
One of them was an "accidental" work: during the trip to the museum, two pieces in that sandstone material had suffered damage. One was a figure of Christ that had become separated from its base; the other featured a dinosaur head that had broken off from its parent work. It happened that the dinosaur head ended up on the base of the figure. "The director asked me, 'What do you call that piece there?' And I said, it is called 'Serpent in the Pit of Christ'. He took some pictures, and right away sent them to the Smithsonian."
Most people would have said it was an accident, made from two broken pieces, I say. "Well I knew it was broken, he knew it was broken," he replies. "Sometimes the concept and my imagination go bam!" and he claps his hands together loudly. And how did it feel, to have these sculptures accepted for one of the world's leading museums, when he had, during his trip to the Birmingham museum, to ask what the word "sculpture" even meant?
He takes a rare pause. "I saw it to be . . . almost like a miracle."

It was his childhood, Holley says, that shaped the purpose of his art. Brought up in a succession of foster homes and fairgrounds, working for a living from the age of five, the gathering of "found objects" was driven by necessity. He points to another one of his works in the gallery, Repossessed by the Rules (2018), a large wooden ruler with a series of holes in it, with two padlocks locked in the holes on either end.
"Sometimes the rules are fucked up," he says. "We have to unlock the rules. The holy rules." I ask him if the pun is intentional. "Holley. Hole-y. Holy," he says very slowly, making sure I get it. "I call it 'thought-smithing'. I work and work on the thoughts, before they come out."

He turns again to the battered telephone and points to the figure of the mother and child that he has carefully crafted from the seemingly random collection of wires. "The little child is the future," he says. "He is going to be wired up." It looks like a ball of confusion, I say. "But all of our communication is a ball of confusion," he replies. "We don't want to handle it."
He says that as he was growing up, his mother wanted him to be a preacher. "I didn't know what preaching was. I didn't know how to read. I didn't know how to pronounce 'Jesus' or 'Mary Mag-da-lene'. I thought that what we should be celebrating was the human brain."
His own brain takes another leap. "My mother also said I should not be a fornicator. A for-nic-ator." He looks quizzical. "Am I being a caterer of phoniness?" It's a joke, but also the most honest question I have heard from an artist sitting in a gallery full of his own work.
He would have made a wonderful preacher, I say. He shakes his head. "I stayed down. I wanted to stay in the mud. Crawling in the sewer pipes. I wanted to see what deterioration meant. Touch it, turn it over. The broken glass, the stone bricks, the waste.
"And then, use it."
19 May 2022